Since it was established, Gamagori Seisakusho has been engaging in high-mix low-volume precision processes in various fields such as optical equipment, medical equipment, measuring instruments, office automation equipment, semiconductor manufacturing equipment, optical communication, fuel battery, aerospace and robotics.
Our aluminum machining technology is the key factor and that has consistently provided solutions to our customers' challenging tasks in such variety of industries.
The word "know-how" is far too simple to describe strengths of Gamagori Seisakusho. Machining methods we have devised which we only could have achieved from enormous number of high-mix low-volume production in over 60 years of history is one of our strengths.
From the very beginning, we equipped our shop floor with first-class machine tools and inspection instruments and have continuously introduced and been mastering up-to-date machines and process engineering till this day.
As for in recent years, we have been participating in trade shows and business meetings to strengthen our sales activities and also reassessing our existing customers' needs to understand own strengths objectively, and we are also involving research and development of processing technology in industry/academia/government cooperation projects to further strengthen our strengths.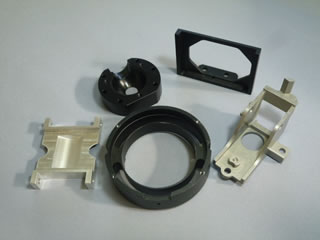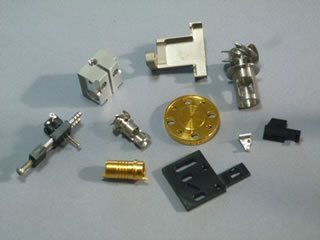 It was about 20 years ago, a product development engineer from one of our customers, a major optical equipment manufacturer brought a challenging task.
They were manufacturing a laser reflector from t = 0.5mm, φ250mm aluminum plate, and it was taking them 40 hours to make the mirror surface from the aluminum rolled stock by a special machine.
Its production volume suddenly increased and so the customer asked us to find a way to shorten the polishing process.
Our solution was to smoothen the surface by scraping off 0.01 to 0.02mm by a lathe before polishing.
Any ordinary clamping methods would not work when cutting such thin aluminum material, however, that is where our superior clamping technique comes in.
Affixing the material on thicker material by double-sided adhesive tape or fixing by wax are somewhat simple clamping methods. We tried various ways of clamping and came up with an ideal method. With the clamping technique, we managed to get Ra=0.4 surface without having the material being deformed. In result, the polishing process was dramatically shortened to only 3hours, less than one-tenth of what it used to take.
It was 1.65 billion yen cost reduction at the customer annually.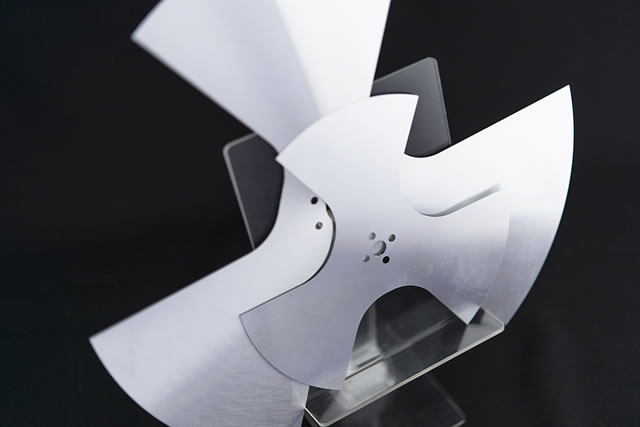 One time, a medical equipment manufacturer who saw Gamagori Seisakusho website came to us for help. The manufacturer had already tried more than 20 of its associated companies to machine this part of mammography but none of them could.
The small aluminum part was 10x25x350mm in size and had a slot in the middle. That meant that it had a shape of which would be warped or twisted rather easily with ordinary processes.
However, the part had to have a flatness of 0.05mm or less in total for the mammography to take correct measurement data. The requirement was inevitable.
So, that's where our engineers' process design skill could really play a role. How to sequence machining processes influences the final accuracy of the product.
From our previous mistakes and data we have collected, we chose what seems to be the best option. Then, after number of trials and errors, we managed to solve the difficult task in about one month.
Since then, the company has been coming back with more problems and we have been providing solutions for them. Our business relationship has been increasing.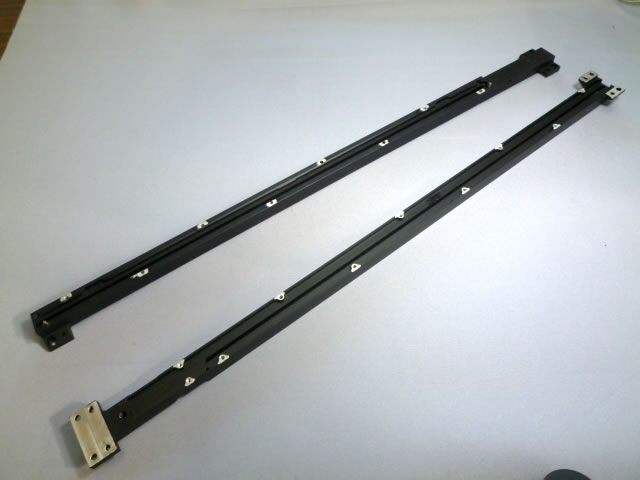 Another time, we received a phone call from a design and development responsible person from a measuring instrument manufacturer. He had been calling all over Japan for 2 weeks to find anyone could manufacture his designed part but no success.
I said on the phone, "Let's give it a try." and so the designer came to Gamagori Seisakusho very next day from far away with a mockup he hand made. I still remember the moment I saw the mockup. I was stunned and thought "that would be impossible."
It was definitely not the moment to say "sorry, we can't." after he came all the way. I consulted our machine operators and they accepted the challenge. This is one of the other strengths we have. "Challenging spirit."
It's just like the Columbus's egg. If it's difficult to stand, flatten the bottom. If it moves when it is machined, just fix it.
We devised several ways of fixing the part and chose the one which is the least time-consuming and repeatable. Our specially designed original jig made it possible.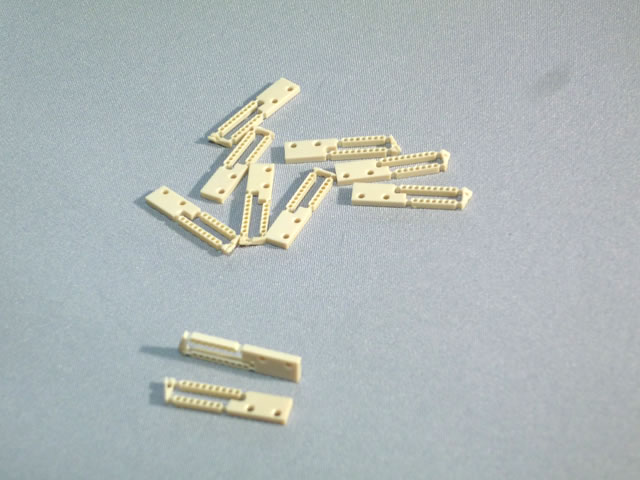 From 6 years ago Gamagori Seisakusho has been in space industry, processing satellite parts. Unlike common aluminum material, special heat treatment is often applied to them.
Because of that, some can be very hard or tenacious, and could easily deform by even a small cutting process.
Such characteristics of material must be understood to handle those orders from the space industry.
It is also essential to have good traceability in every day processes in order to understand such characteristics of those material used in aerospace industry.
Gamagori Seisakusho has employed first-class machine tools and inspection instruments, and with skills of both experienced and young members, we are materializing customers' dreams every day. Each machine operator tags their signature to assure quality of their processes and sends the parts out.
Gamagori Seisakusho is not certified for JIS Q 9100, however, a system equivalent to such standard is available.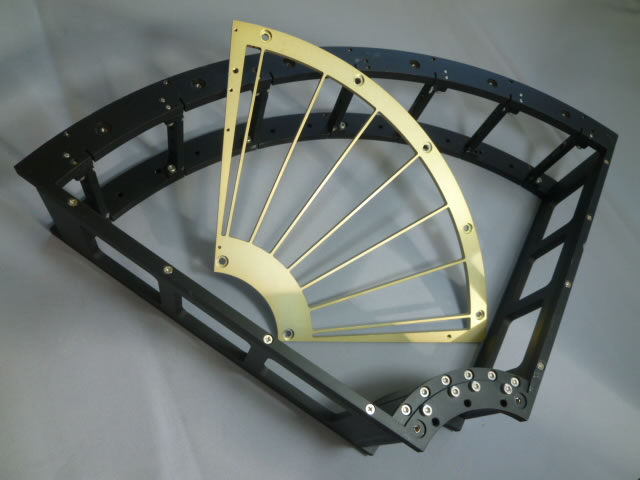 Components of ASTRO-H, exploration X-ray telescope satellite (Scheduled to launch in October 2015)

For 6 years until last year, Gamagori Seisakusho had involved the ALMA, an international astronomical project, installing nearly 70 antennas to create a big radio telescope on 5,000 meters altitude plateau in Chili to observe distant space to find the origin of life.
National Astronomic Observatory of Japan had asked us to make a mirror block, a main component of radio receiver that sends radio wave to analysis device in the parabolic antennas.
(Mirror block A6061 100×120×150mm)
Having advised by engineers from the National Astronomic Observatory of Japan, we went through 5 prototyping in a period of 1 year, and manufactured the world most precision radio wave reflector mirror.
The mirror block consists of 4 radio reflector mirrors and each one of them must have 10 micron or less precision.
It looks like 5 heads machining center's job but that would create small deformation at every machining process. So we decided to prepare special jigs for every process step, and machined and measured step by step to achieve the precision.
Such machining process can be succeeded only when characteristics of aluminum is well understood.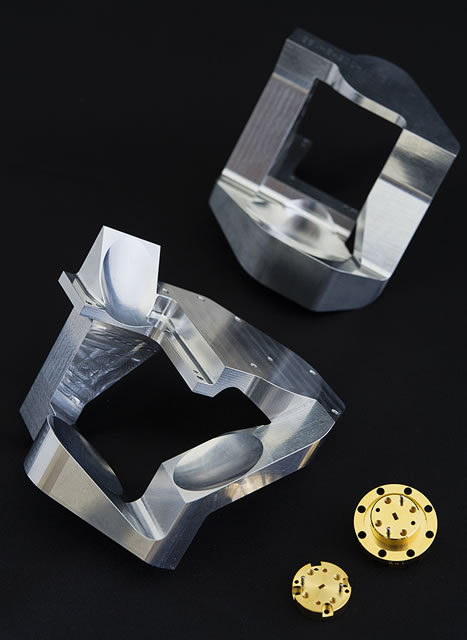 Gamagori Seisakusho is looking to take the position somewhere between an ordinary small factory in town and a factory can take care of nano machining.
So we started research and development of "Fine precision process" in cooperation with OSG CORPORATION, Toyohashi University of Technology and KIRA CORPORATION as an industry/academia cooperation project 7 years ago.
Our definition of "Fine precision process" is a machining process with tools that is 0.1mm or smaller.
In the last 2 years, demands for the fine precision process has gradually increased in medical equipment and communication equipment fields.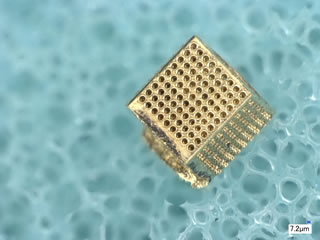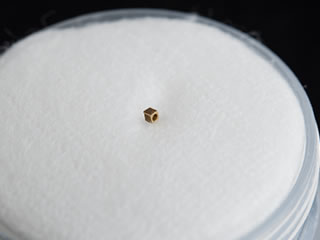 An example of the fine precision process. Drilled through 9 by 9, total of 81 of 0.05mm holes on 1mm cube.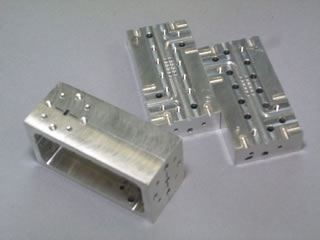 Telecommunication equipment part. A sample of the fine precision profiling.

We happen to supply some parts to a company who is competing in DARPA ROBOTICS CHALLENGE. This robot competition is to decide the best humanoid rescue robot of the world, and its finals is scheduled in this June.
Gamagori Seisakusho has many activities in industry/academia cooperation projects, working with universities and research institutions. And 70% of our customers are listed on first section of the stock exchange.
We are good at communicating with universities and engineers from major companies, and we provide solution to our customers by proposing VA and VE.